SOFTWARE
Very Simple And Easy To Use Screen Capture Software Has Lot Of Capturing Tools
By
|
Today I have brought you a software which you can have shorts on your computer screen,you can record your computer screen,not only that, but with the help of this software arrow in the image, border, background can put the logo.There are many options from which you can create a beautiful picture. This software is very easy to use and are many options. When you open the software options that would be. Click on any one of you "screen capture" as given picture below and capture your desired area.
Click on save as, select the location and image formats and save methods.
Screen Recording Method:
Open Software and click on "Screen Recorder" option as given picture below. A new window will open in front of you, there are some options ,How much you want to record the screen, If you want to record the whole screen or taskbar plus. Now select the custom option, click on record and wait a bit, when the computer will ask you to be or want to cancel, you click on start, If your screen will start to be . All the time you record the screen must be If they want to save , Press Ctrl + F11 and click save. Write their own name and location and save it.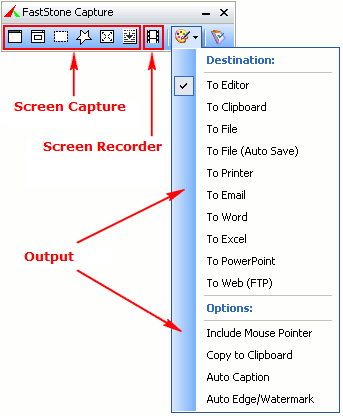 It is not Free but you can use all options for limited period,Download from: www.faststone.org