TECHNOLOGY
The LED Speaker Qur'an Lamp Is Latest Product For Muslims People
By
|
LED bulb with a Qur'an Speaker inside, latest product for Muslims people. You can use this in the room or a mosque, to learn Quran with high-quality voice. Also you can listen full recitation by 28 different famous Imams and 26 different translation audio. Its speaker is working with remote control. you can select the Imams, Translation, Surah etc.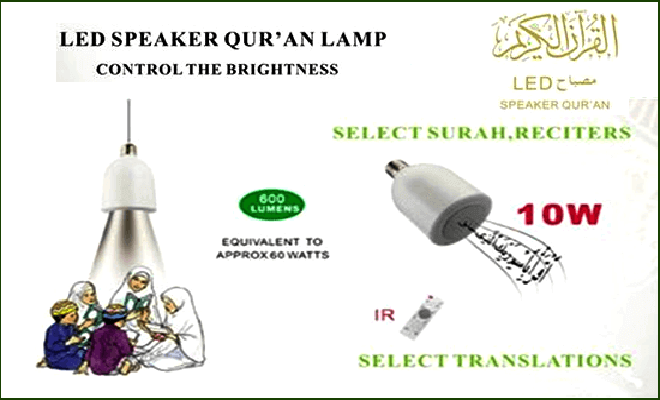 Functions of LED Speaker Qur'an Lamp:
1# Listen Quran audio word by word, very easy for learning Quran by this way.
2#Select your desired language for understand Quran meaning, and play Quran Surah by pressing button on remote.
3#listen Quran audio and any translation together, combine and single mode option available.
4#FM radio function and MP3 audio, Support any audio MP3 files.
5#Easy selects Surah No, by number key on the remote control.
 If you like this then ask best price at Email/Skype (bluesun1124@gmail.com)