SOFTWARE
The Best And Free Windows 7 Or Windows 8 USB Bootable Maker
By
|
WiNToBootic is a freeware that allows you an easy creation of bootable Windows USB hard or flash disk from an ISO image, CD/DVD or Folder. This product is focused on creation of boot disks based on Microsoft Windows XP, Vista, 7 and 8. Its support NTFS format and both ISO format or direct folder. Required .NET Framework 2.0 for installation.[wpsr_plusone]
How To Use:
1- Plug in USB Flash or Hard Disk Drive.
2- Select the right Drive Letter if necessary.
3- Select Quick Format if necessary.
4- Drag and Drop or select via Open Dialog an ISO/DVD/Folder with bootable Windows content and
Click Do it.
5- Provide administrative privileges if you will be prompted.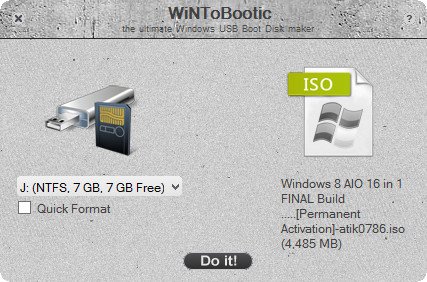 For more detail and download free from Author site www.wintobootic.com and if you like this then donate and support the Programmer.