TECHNOLOGY
Magic Pen Recorder, Converts Your Written Notes Into Electronic Files And Transfers It To Your PC And Phone
By
|
Magic Pen recorder is like Spy Pen Camera available with up to 2,4, & 8 GB memory. And easily convert your written notes into electronic files and then transfers it to your phone and computer via Bluetooth or usb port. It is also writing faster and capture nice photo all is available in this pen. Its main functions thinnest spy pen camera, thick pen DVR, spy pen cam video, pen AV recorder, video recording, still Image etc.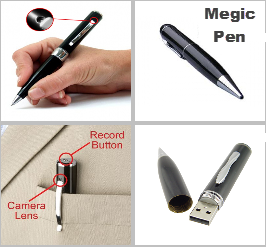 Main Features are Following:
1- Video file resolution is 640*480 IMAGE 1.3 MP Video.
2- Major formats are AV1,recommended player rainstorm audio and video.
3- Support vedio players are KM Player, Mplayer and windows media player.
4- Working time is more than 2 hours.
5- It has high-capacity lithium battery.
6- Support Plug in straight standard USB.