MOBILES
How To Download HD Videos From Internet Into Android Mobile And Tablets
By
|
Easy HD Video Downloader was recently launched by MobiLogic AG, an experienced top developer. It is available for free download on Google Play with a 3.9 user rating. You can browse here for all kinds of videos and download them easily on to your smart phone or device. Having personally used it, I would highly recommend it to future users. The interface is really simple with easy to navigate tools. Search for any video by entering the keywords in the search bar. Click on the download icon to start the download. This app lets you choose the resolution for your video. Choose from a list of three resolutions whichever suits your device. You can see a list of the downloaded videos at the download tab.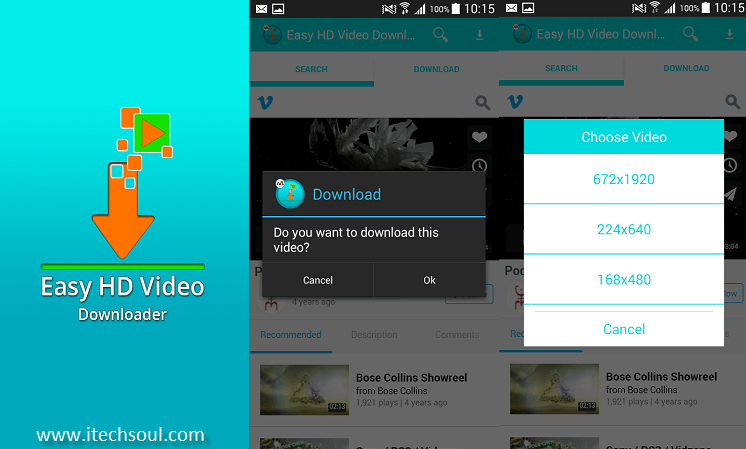 Have you ever had trouble downloading videos from you tube and saving them to your device?
• Cannot find a good enough software to search and download videos.
• Love watching videos on you tube but don't understand how to save them for viewing again and again.
• Want to have a collection of music, cooking, sports, fitness and other type of videos saved up with you for future viewing and sharing.
• You are at a loss when it comes to complicated software.
• You get confused between which file extension which software supports and which one you're really looking for.
• Even if you get past understanding all these dynamics, you are still unable to download high quality videos.
• You have searched and searched for a good downloader but unable to find one.
• All the good ones are paid downloader's.
You really don't need to worry at all because we have got the answer to your woes. It is a complete downloader with a single solution to all your problems and issues. No longer do you have to worry about downloading videos and saving them up in your device.
Just download Easy HD Video Downloader into your smart phone or tablet and start searching, downloading and viewing your favorite videos.
Download Easy HD Video Downloader