BLOGGER
Create Online Identification And Recognized Your Avatar Globally
Gravatar has always been about globally recognized avatars make easy to find out about who is behind your favorite comments on WordPress or other web forum. Your Avatar image that follows you from site to site appearing beside your name when you do things like comment or post on a blog and websites. Gravatar website is available in 40 different languages and they can do to make things global by being available in every language.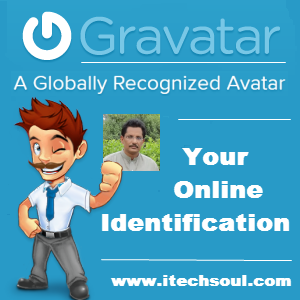 Top sites that use Gravatar:
WordPress.com
Hootsuite.com
Battlefield.com
Americanidol.com
Techdirt.com
Disqus.com
Stackoverflow.com
For the site owner Gravatar should give your site a new look in your comments place. Simply create registration and login to make your globally  identification www.en.gravatar.com
Muhammad Farooq
I am Muhammad Farooq, Site owner of www.itechsoul.com has written 1,766 articles for itechsoul, where I share unique, quality and information with the whole world. iTechSoul provides free software, new product reviews, techealth, tips & tricks, blogging, internet, my work, mobile updates, social media, technology news and more.